February 15, 2016
Tripawds is a user-supported community. Thank you for your support!
I spent the Valentine's weekend away from Scooby. When I came home, I got to see two more days of improvement. He runs now. He jumps. He wants to play constantly. Before the amputation, he would lay down and chill on a regular basis. Now he has this one year old puppy attitude! That's good and bad – I get a real one year old GSD puppy to "deal" with now.
Things I've learned since last blog post: The leash never gets between his front legs. When he's laying in the way and I have to step over him, I only have to spot one leg to miss. I believe it's true that going faster is easier – a lot faster. Icy stairs are not good for tripawds, or dogs with an extra leg.
I went and saw an agility club contest over the weekend. That would be my dream to go out there and win one of those things.
Here he is chasing a ball this morning. I didn't throw it very far. He's still wearing out fairly quickly but he has his agility. We'll keep working on endurance.
I also put his Webmaster harness on him last night, and his purple Pawz. I couldn't leave the Pawz on him for long before he was trying to chew it. I tried to keep him occupied so he might get used to it.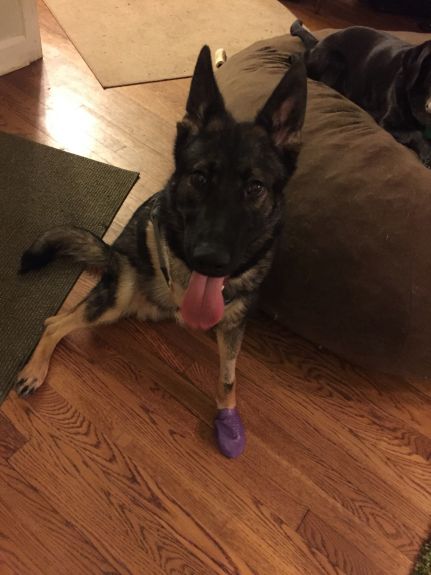 Oh, here's Izzie too.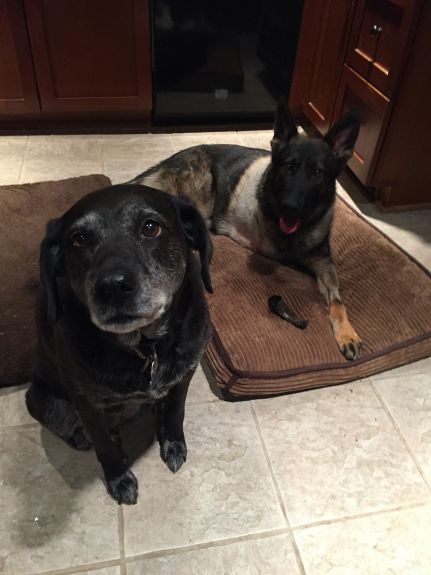 5 Responses to "Scooby almost 3 weeks"
Leave a Reply